As the first eye clinic in Europe, Gemini Eye Clinic started using VICTUS femtosecond laser platform for cataract surgery in February 2012. Some traditional cataract surgery key steps carried out with the use of microsurgical instruments are now compensated by laser. The new method is thus more gentle, safer and much more precise in comparison to the traditional cataract surgery.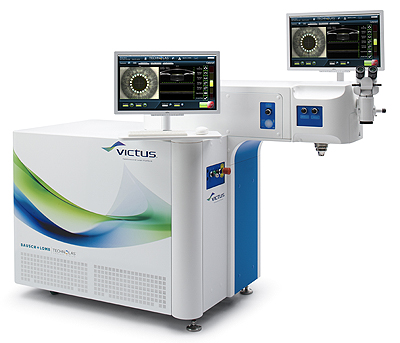 The femtosecond laser made in Germany offers the surgeon with the possibility to individually set the necessary parametres according to an individual eye of each patient. During the surgery, OCT method in real time shows the structure of the anterior eye segment, which contributes to safe and controlled course of the surgery.
The femtosecond laser does not carry out all the steps performed manually by the surgeon during the traditional cataract surgery. It, however, contributes to higher safety, precision and gentleness of the procedure by performing some steps of the surgery with laser beam. Some of the microsurgical instruments are thus not used. Another advantage is that the eye structures are less strained. In a traditional cataract surgery, the lens is removed with the use of ultrasound. This step is compensated by laser which works without any physical contact with the lens and is more gentle and safer, and so the energetic and mechanic strain of the eye is lower.